Cleaning 8mm and 16mm film with Vitafilm
FOR OLD, DRY, BRITTLE FILM
-OR-
FILM SHOWING SIGNS OF VINEGAR SYNDROME
(Recommended for 8mm & 16mm)
Submerge Method
Submerge entire metal film reel into can or tray of VITAFILM®.
Be sure your metal reel does not have a plastic hub, as VITAFILM® will melt it.
Close cover and let film soak for 24 hours.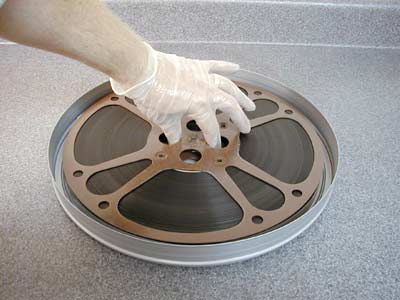 Remove and let drain for about 30 seconds.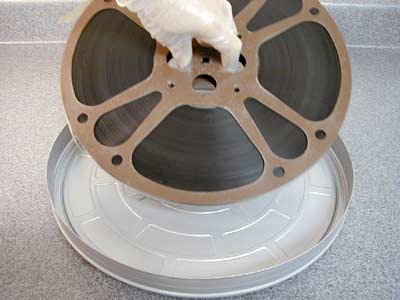 Place reel in dry metal can and close.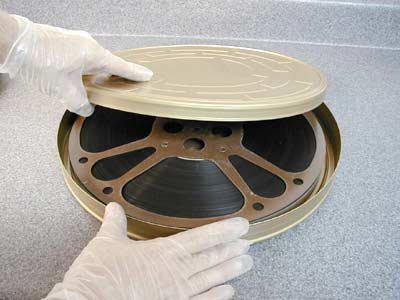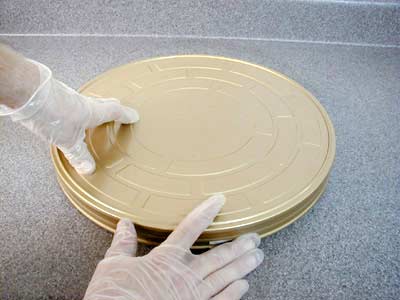 Leave film in closed can for 90 to 180 days until film has absorbed all VITAFILM® liquid. Film is now ready for use and can be transferred to plastic reels and cans if desired.
NOTE: TO CURE VINEGAR SYNDROME
It is very important to leave can closed so VITAFILM® will be slowly absorbed into the base of the film, rather than evaporated into the air. Best results are obtained with a room temperature of 65 degrees to 75 degrees Fahrenheit with 40-50% relative humidity. To determine if film is dry, gently squeeze the film toward the hub to see if any liquid is visible, film should be 100% dry before removing from can. Film will still have the odor of VITAFILM®. This will diminish in time. Film is now ready to use. Although rarely necessary, you may reapply VITAFILM® several times without any adverse effect.